Tweet
This holiday season, I took the challenge to spend $64.00 on U.S.A. made goods. I tried finding items at nearby shopping malls and came up empty handed. I searched online retailers and found
All USA Clothing
. I'm always nervous about ordering clothes online. I shouldn't be. My experience with All USA Clothing was awesome. The customer service was good and my order arrived quickly.
I ordered the Royal Garden Tee by Cactus Fashions along with two other shirts. When the shirt arrived, I was impressed with the packaging. The shirt was individually wrapped in plastic and included a plastic hanger. I examined the shirt carefully and noticed stitching was perfect and was really well made. The shirt is 100% cotton, but it is a stretchy knit. The fabric was very thick. Not at all flimsy like a similar shirt made in China I acquired a few weeks ago. I always hear people say they can't afford products made in the U.S.A. I paid $29.99 for this shirt. I think the price was very reasonable. It was only a few dollars more than I paid for a similar shirt made outside of the U.S. but the quality is far superior and worth the few extra bucks.
The shirt fit perfectly and is very comfortable. My favorite part about the shirt is that it is long enough at the waist to cover my back when I bend over. I love that I can wear it with jeans. However, it has such a beautiful design, I wouldn't hesitate to wear it with black slacks for a dressier look. I am glad I found All USA Clothing. I'm even happier that there are still apparel items made in the USA.
Here I am loving my new shirt.
Okay, I don't claim to be a model, but most of us aren't.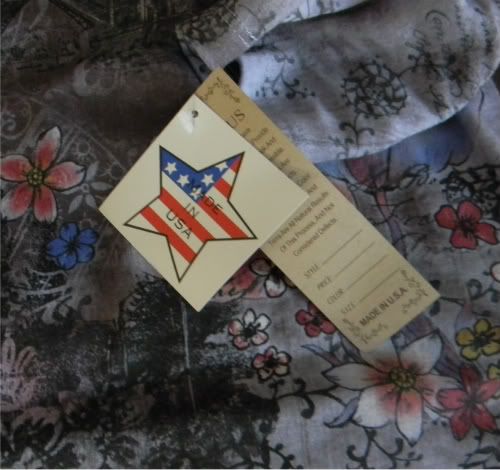 I love the Made in USA tag. I had to show it off.
You can visit the retailers website at http://www.allusaclothing.com
Want to purchase this shirt or another like it. Click
HERE
to visit All USA Clothing and support the Made in USA #64movement. Want to find out more about the $64 movement? Click
here
.
All USA Clothing has generously offered to give one of my lucky readers a chance to win this shirt or another of equal value from All USA Clothing. Thank you to this wonderful online retailer for sponsoring the giveaway.
Giveaway Details: The giveaway is sponsored by All USA Clothing and the product will be provided to the winner by them. The retailer reserves the right to substitute item with an item of equal value. Giveaway ends December 20, 2011 at 12:01 a.m. EST.
Use Rafflecopter form for contest entry. Please be patient while it loads.
**
Disclaimer: I did not receive compensation of any kind for this post nor did I receive free product. All USA Clothing is sponsoring the giveaway and will provide the product at no charge to the winner. My opinions are not influenced in any way by the retailer or manufacturer of this item.